Identity, Reputation, & Peer Review Strategies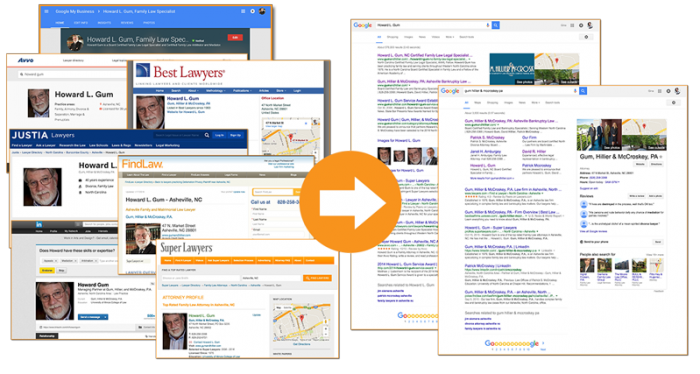 Personal branding and profile development is one of the most economical methods of creating longevity and recognition in the legal marketplace. Utilizing social networks like LinkedIn, Facebook, and Google+ while leveraging your credentials across the vast array of legal directories is are essential elements of driving growth in a digital landscape.
NC Legal Marketing's professionals help you create a resume that includes the elements lawyer profiling sites are looking for, populate them and keep them up to date. We crank up the radar machines for the peer review inclusions that matter. The value you receive from this investment is priceless.
Profile and reputation management are undervalued. Consistent, ethical profile development enhances SEO, creates search ownership, and sets you apart from your competition, while creating the stage for peer recognition and positive client reviews.
Another Happy Lawyer!
Gina is a very knowledgable and creative woman who has been invaluable in our efforts to create and maintain a high quality web presence. She handles all of our marketing, branding, and PR functions with expertise and promptness. I highly recommend her.
Howard Gum, Gum, Hillier & McCroskey, Asheville
Gum, Hillier & McCroskey have been working with us for more than a decade.