Growth-Driven Websites for Lawyers and Law Firms
Effective web sites designs are always simple … simple to find, simple to understand, and simple to navigate. Good web sites incorporate a well organized mixture of information, marketing, and customer service.  Great websites promote trust and establish your presence as a community resource and good neighbor.
We lay solid foundations for your internet presence in both design and development. Keeping abreast of the latest technological innovations, we make use of the most reliable web design tools and universally recognized platforms. Unlike with big brand legal website providers, with us you own your web product in a format supported by thousands of providers. We ensure top quality of our end-product and complete satisfaction for our attorneys.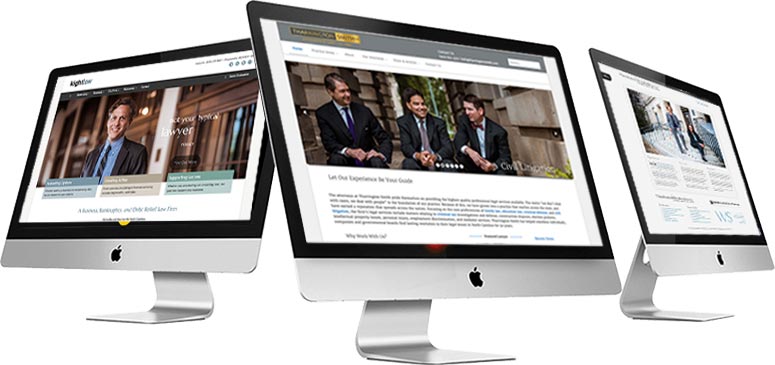 Future Focused. Redefining the Curve.
Our web products are custom, compliant, and 100% portable. We build your site with user-friendliness in mind – for you and for your visitors. Utilizing the power of WordPress, your web presence is autonomously supportable at any point.
Superior Web Products for Lawyers
Strategic Planning

Our process is simple. We listen, interpret, plan, present, and build. We provide you with a detailed plan of development and cost analysis right up front with our marketing contract. Our special knowledge and experience in the legal field enables us to offer the most complete solutions possible.

Ethical Content

For most lawyers, content development is often the most daunting requirement placed upon them by designers. It is crucial to your marketing efforts – and we will help you through this. Our writers are trained paralegals. We focus our talents toward creating accurate, ethically compliant content designed to convert visitors to clients.

Blogging & Publicity

Legal blogs are not just another avenue for publishing. In today's market, a legal blog is the single easiest way to create trust, become a good neighbor, and establish yourself and your firm as the community resource that it is. Keeping your audience informed of your skillset and accomplishment is an important element of client development.

Compliant, Responsive, Secure

We use specialized managed hosting that we custom tailored in-house to meet the needs of our clientele. This allows us to provide a level of service that most providers simply cannot match. All of our sites are hosted on enterprise grade hardware in premium datacenters and backed by experienced system administrators. We have put extensive work into making sure your site is protected against threats such as data-loss, denial-of-service attacks, and malware.
Custom Design

Our designs are unique, professional, reflective of your company's image, and responsive to your clients' needs. Our web sites are growth-driven, easy to find, and easy to navigate. Our lawyers regularly report their NC Legal Marketing website as a new client's reason for selecting their firm. We are proud of this!

Functionality

We develop custom web products to help lawyers capture and convert visitors to clients, and to help you keep in touch with clients and peers. We create the tools that keep your presence relevant to all of the people your lawyers have helped. From intake, survey, and testimonial forms, to blog generated newsletter dissemination, we can make your website work for you.

Search Optimized

Search engine optimization is the process of creating web content, code, and links that are compliant with search engine ranking algorithms for your "YMYL" website. It is a multi-faceted process. Creating friendly content is an on-going effort without immediate gratification. Still, content is king in the world of search engine optimization. High quality, unique content is what search engines are looking for.
Another Happy Lawyer!
Gina has been an invaluable resource for our law firm. Gina is very knowledgeable about legal marketing and the most effective ways for us to reach prospective clients. She has increased our web presence by helping us to create content, enhance our individual attorney profiles and peer review status, and to increase the firm's publicity through social media, advertising, and press coverage. Her agency provides professional and responsive service to our firm as a whole and to each of our lawyers individually.
~Jill Jackson, Tharrington Smith, Raleigh, Top 50 Women, Top 100, North Carolina Super Lawyers